May 1922
Train Wreck
From the Eagle Quill
Life of Bernard Marsh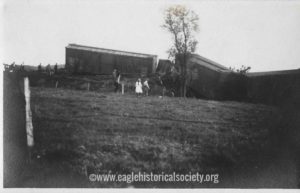 On Saturday afternoon (May 20, 1922) at about 2 o'clock a disastrous railroad wreck occurred three miles west of Eagle. The train was the regular way freight which left Eagle at 1:48, west bound, and contained sixteen cars loaded with merchandise and other freight. When about 3 miles west of Eagle a tank car containing oil left the track and ran along on the ties for 20 rods when the car ahead and ten cars following left the track and plunged down the embankment on either side of the road bed in a tangled mass. Cars were tipped upside down and the heavy steel rails were twisted like wire.
Bernard Marsh, head brakeman, was riding on top of one of the cars and when he saw the inevitable, he jumped, only to be struck by the car on which he was riding and be hurled to his death. People residing nearby who witnessed the accident phoned to Eagle and soon Drs. Fitzgerald and Schmidt arrived at the place but Mr. Marsh was dead when he was taken from the wreckage, having sustained a broken neck, collar bone and thigh, and was bruised about the face. Conductor Raymond, Engineer Bonham, fireman Frank Rodgers and Brakeman Connolly escaped injury. A tramp who was riding on one of the cars ahead of the tank ca

r also escaped injury.
One car was loade

d with cattle being shipped by Sol Engle from Genesee to Whitewater and all but one escape

d injury. A wrecking crew soon arrived and Sunday morning trains were running over the track as usual.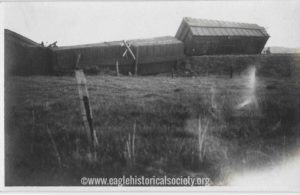 Bernard Marsh was born in Caledonia, Wisconsin, April 12, 1890, and was a son of Joseph and Lena Marsh.
The family moved to Eagle and owned and occupied the farm now owned by Sam Engle. Here Bernard grew to manhood and here attended school and later became interested in railroading. When the family moved to Milwaukee a few years ago Bernard went with them and made his home there. Twelve years of his life were spent as brakeman and conductor on the Prairie du Chien division, passing through Eagle, his boyhood home. Bernard was a model young man, of quiet disposition, and had many friends here who mourn his untimely and accidental death. The body was brought to the Mealy undertaking rooms and then sent to Milwaukee, to the home of his parents. The funeral was held Wednesday.