In 1964, Hasbro toys launched the first GI Joe.  It was agressively marketed as an "action figure" since boys, in the 1960′s, didn't play with dolls.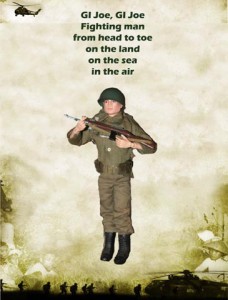 The initial product represented the four branches of service with the Action Soldier, Action Sailor, Action Pilot, Action Marine, and later , the Action Nurse. The term GI stands for Government Issued and after the First World War became a generic term for U.S. soldiers. G.I. Joe was inducted into the National Toy Hall of Fame in 2003.
See the soldiers on display at the Eagle Historical Society Museum!