Harry F. Cruver
Colonel, United States Air Force
Col. Harry Franklyn Cruver was a retired Air Force colonel and decorated bomber pilot in World War II. He was born May 2, 1916 in Eagle Wisconsin to Charles and Caroline Cruver, the sixth of eight children. His parents owned a 79 acre farm on the west side of Hwy E, a few blocks south of Main Street. Some of his neighbors were Joseph Sprague, W.L. Cox, Ed Ely and Henry Onyon. Harry's parents farmed all their lives and are buried at Jericho Cemetery in Eagle.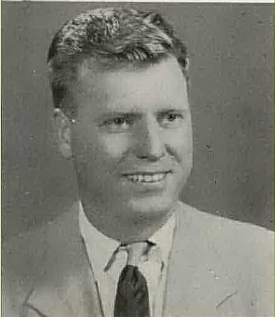 Harry graduated from the University of Wisconsin in 1938 with a bachelor of arts degree and became an architect. He later received a master's degree in business administration from Harvard University
With the war raging in Europe, he joined the US Army infantry in July 1938, and later, the Air Corps in December 1940 where he was assigned the rank of "Aviation Cadet."
Harry attended flight school and served as a flight instructor before becoming a command pilot with the 100th Bomb Group in Europe during WWII. He flew 23 missions over Germany including a daring daylight raid over Hamburg Germany where nearly one-third of the 100th Bomb Group's B-17 aircraft were lost.
Among the many service decorations and awards he received during his 28 year military service, were the Distinguished Flying Cross and the Air Medal, awarded for distinguished and meritorious achievement while serving with the Armed Forces.
It was during the war that Harry met and married the beautiful Frances De Clerk of Pocahontas, Arkansas in August 1943. They later had three children.
After the war, he served several staff positions at the Pentagon, and in 1966, Col. Cruver retired, finishing his military career as a manpower and personnel staff planner in the Office of the Secretary of Defense.
He remained active in his retirement until his death on Feb. 12, 2000. He is buried at Arlington Cemetery in Arlington, Va. His wife Frances died in 1991 and is buried along with her husband at Arlington Cemetery.
(Information comes from Washington Post archives and 100th Bomb Group (Heavy) Foundation)
Details of his service record can be found below.
_ _ _ _ _ _ _ _ _ _ _ _ _ _ _