From time to time, we will highlight Eagle area residents from the past; from pioneers to paupers. Today we introduce
Iva Bigelow Weaver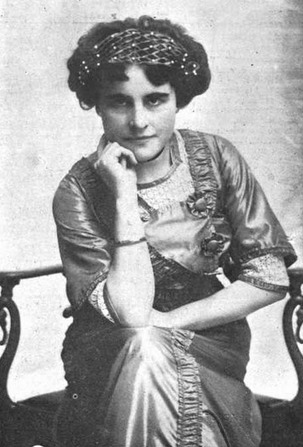 Iva C Bigelow, 1875 – 1932, was an American soprano singer and music teacher based in Chicago and Milwaukee. Her performance circuit was most often in the Midwestern and Plains states, but she was critically recognized around the nation and sang in Chicago, Los Angeles, New York City and on radio in 1926. One reporter commented "Her voice is powerful, particularly sweet in the upper register and of splendid volume" and her performances were always sold out.
Iva was also well respected as a music teacher and ran music studios in Milwaukee and Chicago where she gained her reputation as a great vocal teacher. She was well loved by her students who went on to play many stages around the nation.
Iva was born on October 8, 1875, in Palmyra Wisconsin to Charles Bigelow and Leonora Stacey. Her father died when she was a girl and her mother remarried. Iva attended the Lawrence Conservatory of Music (Lawrence-University) in Appleton, Wisconsin in 1894-1895, and continued her training in Chicago and in Europe. Her younger brother, Oromel H. Bigelow (1881-1966), became a mathematics professor at Whitewater State College (University of Wisconsin-Whitewater), and the Bigelow Residence Hall on the Whitewater campus was named after him.
Eva's life was cut short when she died after complications from appendix surgery in 1932. She was 57 years old and the music world mourned her death. The Iva Bigelow Weaver Junior Music Club of Marshfield Wisonsin was named in her honor after her death, and lasted into the 1970's. Eva is buried in Melendys Prairie Cemetery in Eagle Wisconsin.
***Credit source information for this post from Wikipedia