Eagle Historical Society Presents…
ANNUAL ICE CREAM SOCIAL
P/E COMMUNITY BAND CONCERT
Eagle Village Park
Sunday, July 8, 2018
Social 1:00 & Concert 2:00p.m.
Take a musical journey with the Palmyra/Eagle Community Band for the 2018 Summer "Pops" season and "Around the World in 80 Ways".
Special In-Flight Offerings:
Music of Henry Mancini, Andrew Lloyd Webber, Richard Rogers and Frank Sinatra.

A tribute to the centennial of the birth of the great American composer, Leonard Bernstein.

Bandmaster Ed Pierce will have his usual flight crew, Jim Neist and the "Kettle Moraine Blues," sax soloist Ellie Hawes.

Dancers Josh and Caitlyn Voigt will "cut a rug" with music from Dick Clark's "American

Bandstand".
Eagle Boy Scout Troop 54, led by Mike Eddy, Scott Beckwith and Jim
Dean, will again help with the flag ceremony, set-up of chairs, and seating
of concert goers. Pack your bag chair and feel free to get up at any
time during our musical flight to get more delightful cake and ice cream.
No boarding pass is required! (IT IS ALL FREE!)
Questions… 262.594.8961 or elaine@ledrowski.com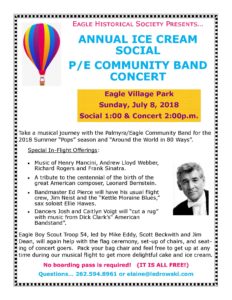 ---